Can drinking tea help us understand climate change?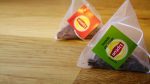 Yes. Teabags can provide vital information on the global carbon cycle. And consumers worldwide can improve climate modelling without much effort or equipment. That is why we want you, tea consumers, to become tea researchers and help us to plant tea.
The idea
We developed a simple and cheap method to measure decay rate of plant material by using tea. The method consists of burying tea bags with Green tea and Rooibos and digging them up ca. three months later. In this period, the tea will decay, and will therefore show what will happen with normal plant material in the soil. This method was developed and tested by a team of researchers from the University of Utrecht, Umeå University, The Netherlands Institute of Ecology and the Austrian Agency for Health and Food Safety Ltd.
The scientific value of this new method has already been acknowledged and experiments are currently running in countries all over the world. Many school children and other citizen scientists joined. The idea is to use this new method to collect data on decay rates from all over the world. With this data we will make a global soil map, and consequently improve global climate models that use these maps.
Want to join?
On this website you can find all the information on the method. All you need is a good scale (0.01 precision) and a spoon to dig. Of course you also need tea. You can buy this online, but if you cannot find it online, or if you have any other questions, you can contact us.
Researchers that make a significant contribution to our data base and want to participate in its analyses are invited to become co-author. To apply for co-authorship click here.
We gratefully thank all the people that have contributed so far. You can see their contribution on the map, read their stories or see pictures of their activities.