Availability of tea
It is very important that you use the right type of tea. If everyone uses the same tea, it will be possible to compare results. With different tea types this is not possible. There are two tea bag types, and for comparisons it is very important that you note what type you used.
Lipton changed the fabric of the bags in 2017, from woven, nylon mesh into nonwoven bags from polypropylene, while the tea inside has remained the same. We therefore launched TBI 2.0, where we will collect data from the nonwoven bags. Within Teatime4science, we collect only decomposition data from woven nylon mesh bags, as we think that the new mesh size will result in unknown interactions and comparison cannot be achieved with a simple conversion factor. You are therefore encouraged to submit your data both from woven nylon mesh and nonwoven bags, but please clearly indicate which tea bags you used. The data of nonwoven bags collected in TBI 2.0 will become our future reference dataset, and we plan to analyze the differences between the woven and unwoven tea bags.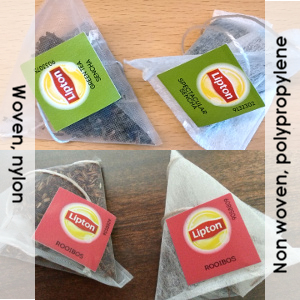 Technical details
Green tea – Lipton Indonesian tea Sencha tradition: EAN 87 22700 05552 5, or Sencha exclusive collection, EAN 8714100770542 or 8711327515765.
Rooibos tea: Lipton Infusion Rooibos: EAN 87 11327 5143 48.
The wrong tea
Easy confusion exists with 'green tea with flavoring' and 'red tea'. Those are not the right type of tea. Always check the EAN number.
Shops
To our knowledge, Green and Rooibos tea can be bought in grocery shops only in a few countries in Europe.
Online
If you cannot find the right tea in your local shop, you can order it online.
e.g.
Green
Dutchsupermarket.com
Onfos.de
cheapbasket.com.cy
Sporadically also via amazon available.
Rooibos
Dutchsupermarket.com
Dutchsupermarket sponsors our project and provides 10% discount when you apply the coupon code TBI10 in the shopping cart.