Availability of tea
It is very important that you use the right type of tea. If everyone uses the same tea, it will be possible to compare results. With different tea types this is not possible.
If you have one or a few locations where you want to bury tea, you can send an email to us and we will provide you with tea for your locations.
The right tea – WATCH OUT Lipton has started to produce tea with the same EAN number, but wit different fabric of the bag.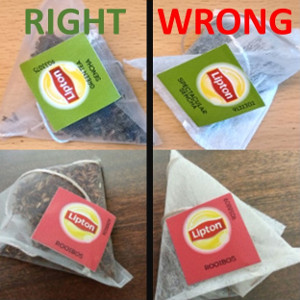 Lipton Green tea – Indonesian tea Sencha tradition: EAN 87 22700 05552 5.
Herbal infusion Rooibos – Rooibos and hibiscus: EAN 87 22700 18843 8.
The wrong tea
Easy confusion exists with 'spectacular sencha' and 'red tea'. Those are not the right type of tea. Links to the right type of tea are provided below and always check the EAN number.
Shops
To our knowledge, Green and Rooibos tea can be bought in grocery shops only in a few countries in Europe.
Online
If you cannot find the right tea in your local shop, you can order it online.
We hope to soon be able to provide suggestions here. If you come across some good (internet) shop, please let us know.